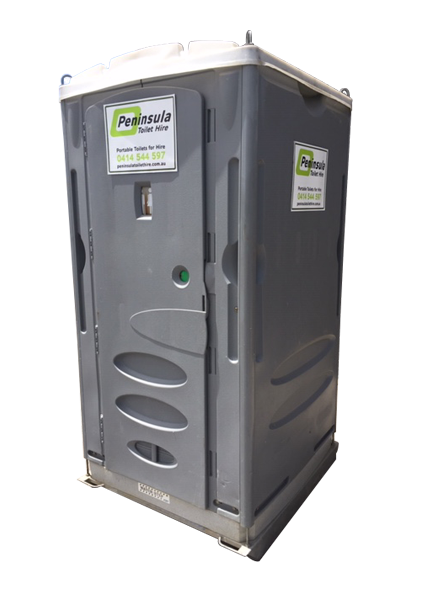 PLASTIC BUILDERS TOILETS FOR HIRE
Peninsula Toilet Hire have a vast range of plastic builders toilets for hire on construction sites. If you are a building site manager, you can not overlook the importance of having clean, well-equipped and maintained portable toilets for your team of construction workers.
A construction or building project runs on tight deadlines. However, the schedule cannot be met if the workforce is not fully productive. A significant factor in enhancing the efficiency of your workforce is the standard of amenities you provide onsite. Call us today at 0414 544 597 and speak to one of our consultants about your requirements for builders' toilets for hire.
PLASTIC BUILDERS TOILETS FEATURES
All our builders' toilets are made from superior quality material and well-stocked with premium products. 
400 litre waste tank
Sturdy construction for longer life
Clean, well-maintained interiors
Pump-out service available at fixed intervals
In compliance with Victorian Occupational Health & Safety Guidelines
Hand flush pump that's heavy duty and similar to the ones used in marine industry
Dimensions: 1200mm (length) x 1200mm (width) x 2300mm (height)
FACTORS TO BE CONSIDERED
When you contact us to book a builders' toilet, our team of experienced professionals will ask you the following questions and suggest a suitable toilet that meets all your requirements: 
Number of people who will be working on-site
Number of toilets needed
Location of the dunnies
Requirement of separate male & female toilets
On-site access for the delivery crane truck
Duration of hire & your budget
Cleaning schedule for the toilets
Amenities needed (including toilet rolls)
Requirement of sewer connected toilets
" I hired a portable shower from you for my husband whilst he was doing renovations on the house. I was fed up with dust and muck and a dirty bathroom. It did the trick and your team did a great job. Thanks - the show was really good." 
- Anthony
"Great service, hired for our wedding. Thankyou"
- Cass
info@peninsulatoilethire.com.au
Get A Quote Today - Call Us On The Above Number Or Send An Email Enquiry.
PO Box 2326, Rosebud Plaza, Victoria 3939
Mornington Peninsula
City Of Frankston
City Of Casey
City Of Dandenong
City Kingston