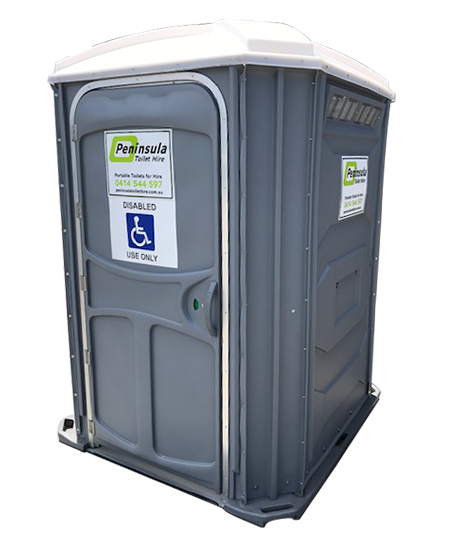 DISABLED TOILETS HIRE
When organising an event or function, you will need to cater for patrons who require wheel chair access loos and for people who may need additional assistance.
Peninsula Toilet Hire supply disabled toilets, with wheel chair access, additional space, support rails and other fittings designed to assist people with disabilities.
Our Disable Toilets Include:
Interior designed for special needs..
Easily operated hand pump – doesn't require strength to operate.
Large waste and fresh water capacity.
Wide self closing door that is wheelchair accessible.
Flat floor design, without ramps for easy access..
Translucent roof providing good lighting inside the loo.
Our disabled toilets meet all of the required Australian Standards for disabled portable toilets.
Hire includes delivery, pump-out, cleaning and post event pick-up.
Maintenance & Cleaning
Our disabled toilets are regularly maintained to ensure they are in good working order.
At the completion of each hire, every toilet is thoroughly cleaned and sanitised.
We also carry our cleaning during a hire, if required.
Professional Efficient Service
 We are always on hand, if something goes wrong.  Let's be honest – things sometimes do go wrong!
However – what's important is that when there is a hiccup – we will be on top of it, as soon as we are notified.
Whether we have to fix a faulty loo, replace a loo or provide additional toilets, we'll be there for you.
" I hired a portable shower from you for my husband whilst he was doing renovations on the house. I was fed up with dust and muck and a dirty bathroom. It did the trick and your team did a great job. Thanks - the show was really good." 
- Anthony
"Great service, hired for our wedding. Thankyou"
- Cass
info@peninsulatoilethire.com.au
Get A Quote Today - Call Us On The Above Number Or Send An Email Enquiry.
PO Box 2326, Rosebud Plaza, Victoria 3939
Mornington Peninsula
City Of Frankston
City Of Casey
City Of Dandenong
City Kingston