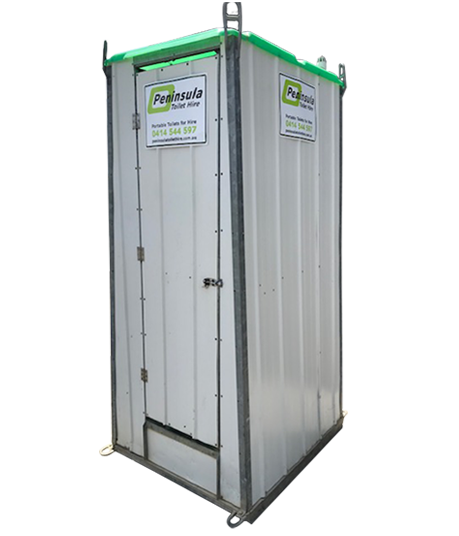 METAL BUILDERS TOILETS
Our metal builders toilets can be hired for small home renovation projects where only one or two loos are required, right through to large construction sites that employ multiple tradesman and contractors.
Budget Hire – Still Clean & Well Maintained
Our metal toilets are at the budget end of the range, but are still well maintained and clean. 
We don't put out damaged, poorly working or dirty toilets. We keep all of our loos in good working order, through regular, ongoing maintenance.
If you need prompt delivery, want clean and well-maintained toilets or are looking for a professional portable toilet for your building site, call
Peninsula Toilet Hire on    0414 544 597
What type of hire are you after?
Short term hire – single toilet?
Short Term multiple toilets?
Long term single hire
Long term multiple toilets.
Get a price – give us a call or send an email through our contact form and we'll get right back to you with a quote.
Not sure how long you'll need to hire the toilets for? Hire for a shorter period and extend the hire as you go.
Pump-out & Cleaning
When you hire, the price always includes delivery, hire, pump out and pick-up.
Our metal builders toilets can be hired for:
Home Renovations
Roadworks and resurfacing projects
Earthworks
Paving and re-paving jobs
Projects involving underground construction work
Drainage projects
Residential building and Construction sites.
Hire includes delivery, pump-out, cleaning and post event pick-up.
FEATURES
Easy to clean interiors
Professionally cleaned and maintained metal builders toilets
Scheduled pump-out service available for busy sites
A waste tank of large capacity 
 SMALL ENOUGH TO CARE
We've been hiring toilets to building and construction sites for 20 years. We are a small local business that cares about it's customers. 
When you hire one of our metal builders toilets, no matter how short the hire period, we work hard to give you the same high standard of service we give to all of our clients.
 REPLACEMENT TOILET
If something goes wrong with one of our portable toilets, give us a call. We will supply a replacement toilet immediately.
We are servicing clients throughout Mornington Peninsula and Frankston, Casey, Dandenong and Kingston Council areas every day, so we are always on hand to help.
" I hired a portable shower from you for my husband whilst he was doing renovations on the house. I was fed up with dust and muck and a dirty bathroom. It did the trick and your team did a great job. Thanks - the show was really good." 
- Anthony
"Great service, hired for our wedding. Thankyou"
- Cass
info@peninsulatoilethire.com.au
Get A Quote Today - Call Us On The Above Number Or Send An Email Enquiry.
PO Box 2326, Rosebud Plaza, Victoria 3939
Mornington Peninsula
City Of Frankston
City Of Casey
City Of Dandenong
City Kingston